There are many important elements to creating and maintaining a successful web presence, but there is one arguably more important than any other — customer focus. You can focus on the customer in a variety of ways, including thoughtful strategy, well-crafted content and use of best practices for design and development. The common business mentality is to communicate first what you offer to customers. We work with clients to change that mindset and move customer needs to the top of the list. In this post I'll discuss key strategic considerations for accomplishing that.
Because the internet has become the dominant research tool for consumers within many industries, businesses face intense online competition. Critical to rising above the competition is becoming a trusted advisor that guides and informs consumers, even before they are ready to make a purchase. 
Know what your prospects are looking for, and provide it.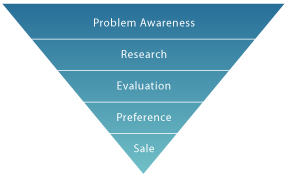 Various users will come to your site with different needs depending on their stage in the buying cycle. Some will be in a research phase looking for educational materials. Others may be in the evaluation phase where they are debating amongst providers. Be sure to offer a variety of content throughout your site that meets these needs.
Take Ann, for example. Ann has old, peeling wallpaper in her bathroom. She wants her bathroom walls to look nice again, but she doesn't know if she wants to replace the wallpaper, or if painting, beadboard, or tile would be better alternatives. Budget is a consideration, as well as longevity and aesthetics. She has considered doing it herself to save money, but isn't sure if she has the skill and time for any of the options. So Ann starts by Googling "bathroom walls."
If Magic Mike's Drywall and Paint wants to have a chance to get Ann's business, he needs to offer information on his website that discusses these options — even if he doesn't offer all of them. A well-informed blog post that discusses the advantages, disadvantages, costs, and the relative difficulty of installation will build Ann's trust in Magic Mike as an expert in his field. However, what if Mike took an easier route and purchased paid advertising that ranked his company high in search results, and skipped the blogging? Imagine that there is no content on the site discussing the other options — only wallpaper and painting, and a call-to-action to "Request a Quote" today. Ann is not ready to make a purchase decision, as she's still in the research phase. Magic Mike has not delivered the information she is looking for, so Ann won't think twice about hitting the back button and abandoning Magic Mike's site in search of a more helpful resource.
Make it clear how your product or service benefits customers.
While product features are valuable information in the evaluation phase, users are not likely to read about those features unless you've presented the benefits first. Benefits explain how the product can help customers, whereas features are the technical aspects of how the product works.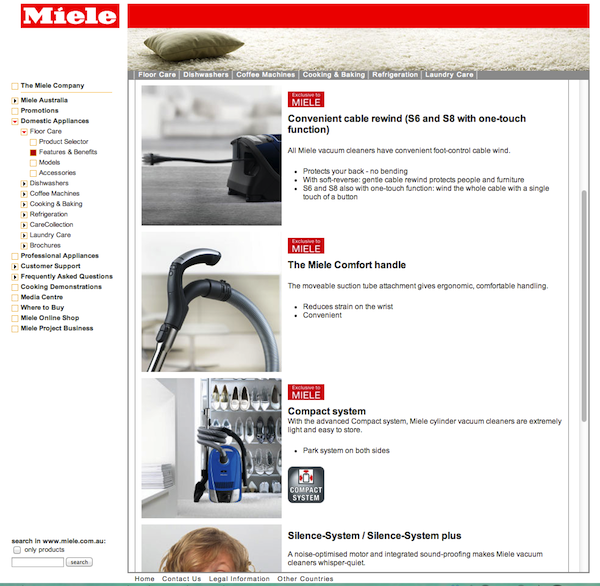 The Miele vacuum site in this screenshot does a great job making the benefits clear before going into feature details.
Hint: testimonials from happy clients can be helpful in communicating your benefits. 
Use language that resonates with your target audience.
Users of your site that are prospective customers are typically not familiar with your industry's vernacular, and they shouldn't have to be. A first-time visitor should easily be able to understand the products or services you offer without having to read a lengthy description.
Imagine Anthony is interested in hiring a painter as part of a home renovation. An initial search online brings up Magic Mike's Paint and Drywall. Magic Mike offers the following trademarked services:
Paint & Paper MakeoversTM

Magic SurfacesTM
Hmmm, what does that mean? Anthony is not going to waste valuable time trying to figure it out, so he hits the back button and moves on to the next search result. After all, if this guy can't articulate how he's going to help Anthony in a few words, how is he going to accomplish it? What Mike intended to convey was interior painting and wallpapering (Paint & Paper MakeoversTM) and faux finishes (Magic SurfacesTM). If he had just come out and said that instead of trying to use branded language that is unfamiliar to his audience, he might have had a chance to keep Anthony's interest.
Become familiar with your prospects' and customers' favorite online spaces.
Including helpful content in your company's website, particularly within the blog, is key to generating inbound traffic. Keep in mind that you also want to meet prospects where they are on the web, literally. Beyond Google, prospective customers may be on YouTube, FaceBook, Twitter, Instagram, LinkedIn, Pinterest, Tumblr or more. It depends on your product or service as to which of those social media spaces make sense for you to have a presence. Given the highly visual nature of their products, Pinterest would be a great place for a painter, clothing boutique, or florist. If your firm sells flooring products to do-it-yourselfers, then it would make sense to have a YouTube channel with installation videos.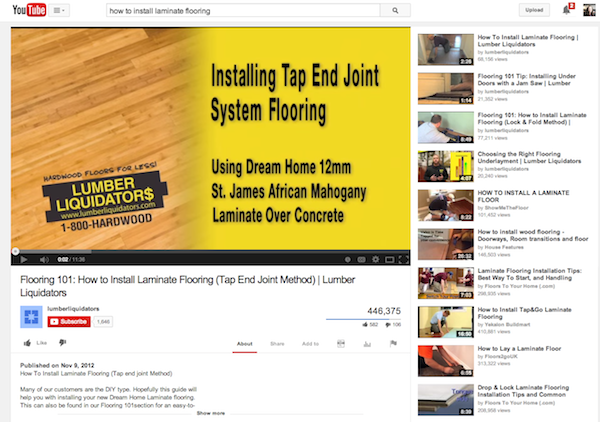 You can see that Lumber Liquidators is dominating YouTube for "how to install flooring" videos. In less than 2 years they've received more than 400,000 views on this video alone. 
Do your research to find out where your prospective customers are spending time on social media and carve out a presence there. Be sure to spend your time in social media wisely, offering content that makes sense for the space and for your users, in a tone that is true to your brand. 
Always keep in mind, it's easy to fall into the trap of turning off prospects by pushing for a sale before they're ready. Remember that your prospects need you to be there at all stages of their consumer journey with helpful information that is easy to understand and presented in a comfortable way. Make their experiences rewarding and you'll greatly increase your chances of making the sale.