B2B site overhaul to generate leads and increase conversions
Goals
Turn the site into a lead generation and conversion tool

Communicate brand value and develop modern visuals
Tactics
Search engine optimization

Develop an inbound marketing strategy

Integrate social media

Implement online chat

Create content that illustrates the dynamic nature of the Apple Rock product line

Website overhaul — visually and technically
B2B site overhaul to generate leads and increase conversions
Apple Rock had a dated website that was a collection of pages with inconsistent navigation and competing calls-to-action. Visitors were easily lost, and the business' own employees couldn't find sections of the site when they needed them. What's worse, Apple Rock's reports were a collection of "vanity metrics" — mixing social media connections and leads to cast an opaque veil over what was truly effective in terms of marketing initiatives.
Apple Rock wanted a new kind of customer — those that valued their deep experience and excellent service. They wanted the customer the next tier up from their current flow of leads.  That's a lofty goal for any business, but we believed we could get there in a strategic and measured fashion. We cut through the bad reports to dig at the heart of what was important to the Apple Rock prospect. Then using product and service pages as landing pages, we tell the Apple Rock story, using their best work and an appeal for the highest level of quality and service offered by the company.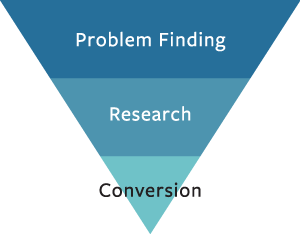 Beyond the brochure, our consistent focus on fresh content has meant working with an evolving Apple Rock marketing team. Supporting their monthly campaigns and teaching them how to communicate in a way that engages their customers — from social media and blogging to email and webinars, Apple Rock had to rethink their approach to their broadcasts and interactions.
Now more than a year in, Apple Rock's quality and volume of qualified leads are way up. Their website and customer relationship management (CRM) are in sync, and their external campaigns are reflected and supported across the site. For Apple Rock, it's an ongoing process, but it's one where we have been able to make continuous improvement and grow their results in the process.