Kilpatrick Townsend's e-discovery team approached us about developing a site for their practice area. As one of the largest 100 firms in the world with offices in 20 cities, it was important to have a way to highlight and promote this rapidly growing practice area. 
We worked with the leadership team to help them communicate their unique offerings to their clients, potential clients, and to the hundreds of attorneys within the company.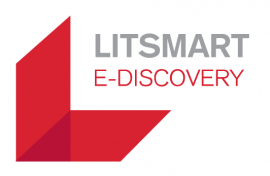 We developed a mark for LitSmart E-Discovery that complements the Kilpatrick Townsend branding. The type, colors, and geometric inspiration all connect with KT. 
The site uses a mix of photography that depicts clients' workplaces as well as the LitSmart E-Discovery team's. Photos are abstracted with texture and dark overlays, much the same way electronic data is when Kilpatrick Townsend's e-discovery team first gets involved. 
We developed an animation that illustrates the e-discovery process — from Preservation & Collection, to Analysis, to Review, and finally Production.