Goals
Develop a visual identity that accurately portrays the cooperative, forward-thinking character of the project and its constituent communities
Create a digital platform for publishing news and information resources
Generate and facilitate public discussion and support for the regional project
Tactics
Define the brand and refresh the logo
Engage the community in events via traditional and social media
Structure the website to support news, maps, reports and idea submissions
Communications project and digital marketing to support regional economic development plan
Piedmont Together is a federally funded Sustainable Communities grant project responsible for creating a regional economic development plan for the Piedmont Triad. Given that counties and municipalities have historically viewed economic and community development as a competitive situation, pulling a 12-county region together to agree on common strategies is no easy task. Comprehensive public input and support from constituent communities is key. Allowing the public to offer feedback and insights as the project progresses is also important to the project planners. 
While the project team enjoyed great success in gathering and sharing content, it lacked the tools to apply a hierarchy and organize the original site in a user-friendly manner. Team members were also relying on two different sites to achieve their content and engagement goals. Kilpatrick Design developed a new site with both a robust publishing platform and a commenting system to increase public interaction. Calls for the public to submit ideas and opinions, and to help prioritize elements of the plan were incorporated into the site.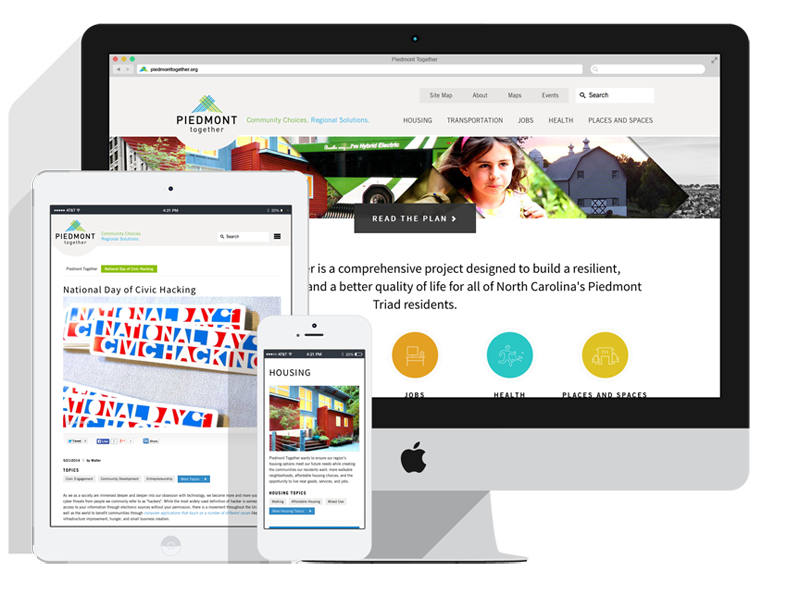 We created a new logo to reflect the progressive character of Piedmont Together and a supportive slogan that makes it clear the project is concerned with encouraging local communities to cooperate and solve region-wide problems: Community Choices. Regional Solutions. 

Alongside the Piedmont Together project team, we worked to publicize the project by using press pitches to reach local TV stations, which covered two days of annual summit events, and by spreading news about the project through social media. Kilpatrick Design also led video curation at these events for coverage and further project promotion.