The Work
Cross Company is a large distributor and solution provider for industrial applications. Distributors are experiencing huge shifts right now, and Cross is an innovative leader in adapting to that change faster than its peer group.
For distributor executives, ecommerce, user experience and non-traditional competition are top concerns, according to a recent national poll. There is a pressure on distributors to modernize — we call it the ecommerce imperative.
The Challenge
Cross has met the needs of its customers for over a decade through ecommerce, most recently at ShopCross.com. The adoption of a new enterprise resource planning platform (ERP), Oracle's NetSuite, opened opportunities to improve the customer experience and automate more of their fulfillment operations. The ecommerce platform native to NetSuite — SuiteCommerce Advanced — offered too many benefits for Cross to consider another option. Having built Cross's first-generation ecommerce site, Alloy brought a wealth of knowledge of the distributor's technology, information architecture, products and marketing needs.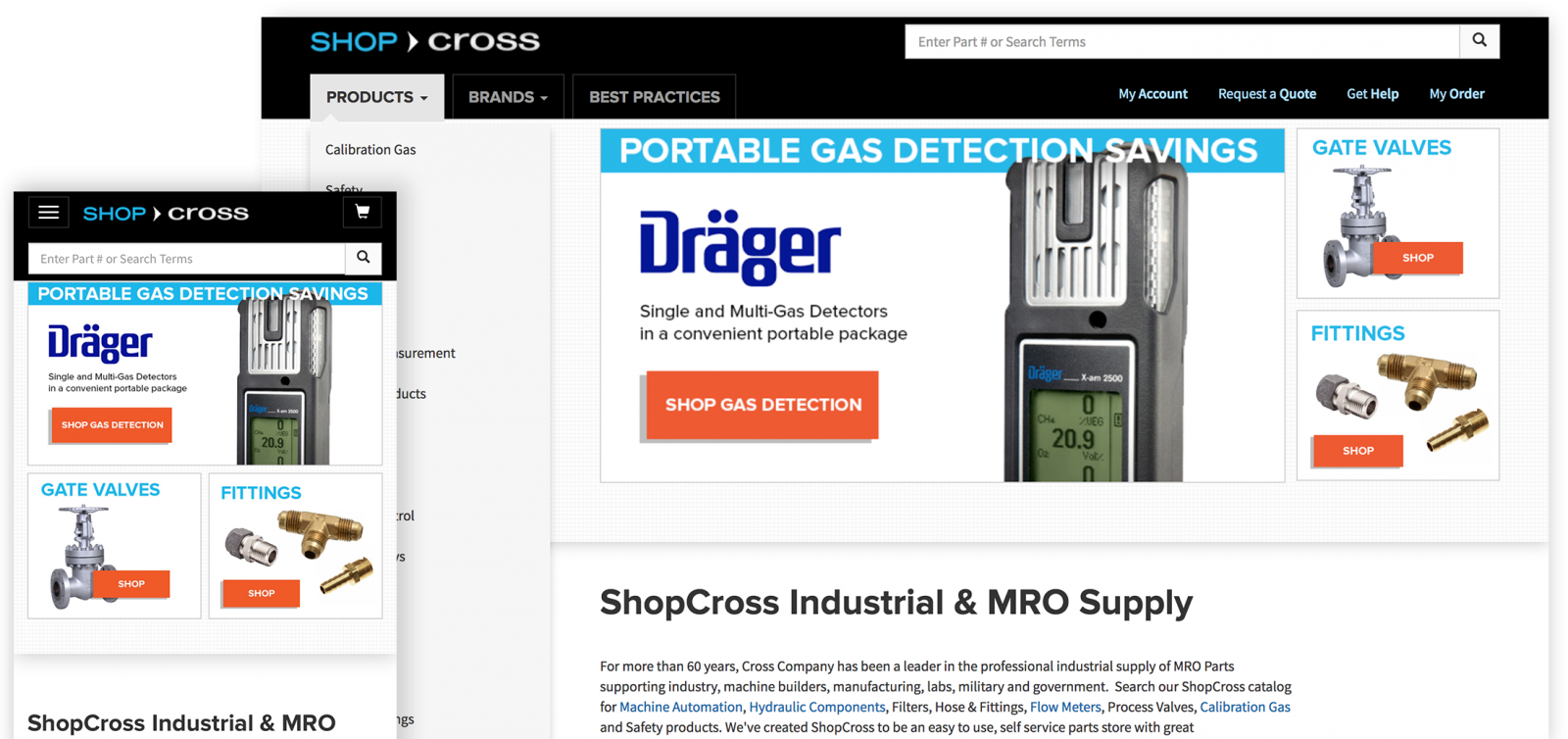 The Solution
During a two year transition between ERP systems, Alloy built a custom NetSuite connector that allowed Cross to utilize NetSuite's ERP on its existing Drupal ecommerce site. The connector is used to track order data, product information and inventory — and sync the information between the two systems until the new NetSuite SuiteCommerce Advanced site can launch.
A combination of NetSuite's SuiteCommerce Advanced and custom development creates an enhanced ecommerce experience for ShopCross customers. While SuiteCommerce Advanced provides a foundation, the project requires custom development to meet Cross' ecommerce needs, including supporting a robust category structure and search engine optimization best practices.
For ecommerce, structure is strategy. Extending the tools of SuiteCommerce Advanced was critical to develop a site that worked for users and functioned well for search engines. Alloy's team collaborated with Cross to develop the ideal structure, and then crafted that category structure using data to confirm each strategic decision. That ideal structure was documented in the information architecture. Our engineering team developed the tools to extend SuiteCommerce's built-in functionality to provide the components to effectively organize and merchandize the products on the site.
The new site:
Updates to a new mobile-first design that incorporates sleek, shared branding with Crossco.com

Organizes the ShopCross.com catalog into a strategic taxonomy designed to better merchandise products and increase search visibility

Leverages facet filtering to match how industrial customers browse technical products

Enables ShopCross and Cross sales people to reference the same customer information, providing seamless customer experience for both online and offline sales

Automates customer communication, fulfillment and tracking, and leverages customer information in recommending related products
The Results
991%
increase in organic traffic within 24 mo
Want more traffic, leads, and sales?
Let's Work Together
Contact Us