Thursday, October 1, 2015
The key challenges with designing and developing the Charlotte Mecklenburg Library website  were to: 
create an easy-to-use and responsive website that serves more than 3.5 million site visits a year

const

ruct a system of style and section types to allow all content contributors to build pages to suit their needs — to make adding pages and reworking content easy to do without the help of 

an information architect, designer, or developer

build an editorial workflow to allow more than 50 internal content contributors to create, edit, approve, and publish content on the site
integrate with a myriad of third-party tools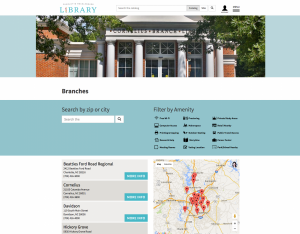 The project benefited greatly from an excellent project manager on the client side who managed the Library's priorities, stakeholders, requests, and timeline. She kept down costs, streamlined communications, and provided clear and decisive direction. (Thank you, Jessica.) 
When we were brought onto the project, some visual explorations had already been done. The decisions to use a launch pad and hidden navigation (hamburger nav) predated our involvement. 
Charlotte Mecklenburg Library already had a strong, fresh look, so our focus for site design was to utilize the brand guidelines and create an inviting and intuitive user experience.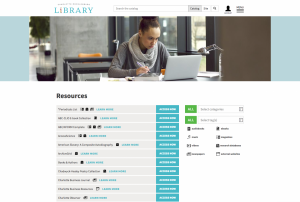 A library is a massive hub of resources — printed, digital, and person-to-person. Search is a key component of making the tens of thousands of nodes easily accessible ("nodes" are units of content in Drupal). The old site suffered from extensive duplicate content. There were dozens of ways to access the same resources. This also created a maze of information that made it hard to find anything as a new user. Through new information architecture, we focused on making the Library's service areas much easier to navigate and digest. 
Here are more improvements the library is benefiting from. These are practices that apply to every site we build.
clean urls
the entire website is mobile-accessible and -friendly
site admins have the ability to construct new pages with dynamic content (like blog or event feeds, headshot and bio blocks, and more)
automatic image resizing (scaling and cropping)
easy-to-use linking tools that allow site admins to make links within the site that stay working even as content changes (changing page titles, changing urls, etc.)
search engine optimization — yes, even a library should have a search engine strategy
site admins can easily create webforms, including setting up email notifications to internal and external users and activating conditional fields
from within the WYSIWYG editor, site admins can add beautifully styled buttons easily