Wednesday, November 7, 2018
There are a lot of great keyword tools out there. Moz, Ahrefs, and SEMrush all have their place when it comes to choosing the right terms for your SEO goals. The problem is that most keyword tools aren't transparent about how they generate related keywords. Related phrases are usually sorted by some "relevance" proxy, and otherwise aren't organized.
Well, there is a free keyword tool that can help you generate the right phrase-matched related keywords. You may have heard of it. It's called Google Autocomplete. 
Google autocomplete has already been playing a part in completing (or redirecting) user searches for years now by predicting what will be typed next in a search query. However, I believe that the Google feature is being vastly underutilized. Autocomplete can be leveraged to fill in related terms based from words that you require in a particular keyword phrase.
Using "___", four underscores that we'll call "the space" from now on, enables you to expand your keyword ideas in a new way. Here I use four underscores, but if you start typing underscores, this feature will reveal itself. 
Suggestions at the beginning of a phrase
Using the space before your target keywords reveals some of the most likely terms that will precede what you typed.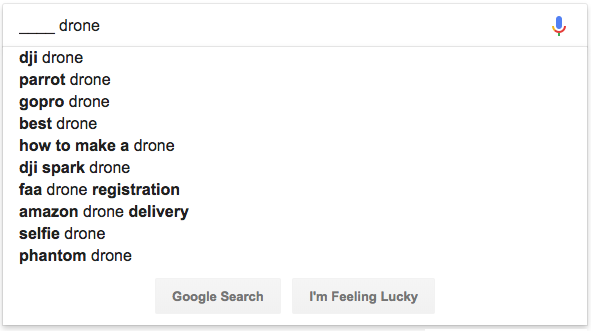 Here, it's clear that people primarily search for "____ drone" by brand, and DJI seems to be the most popular. This kind of search can be extended to marketers who sell a general product or service and need to know what descriptors people use to define it. 
Suggestions in the middle of a phrase
Inserting the space into the middle of some required terms generates suggestions that will complete it.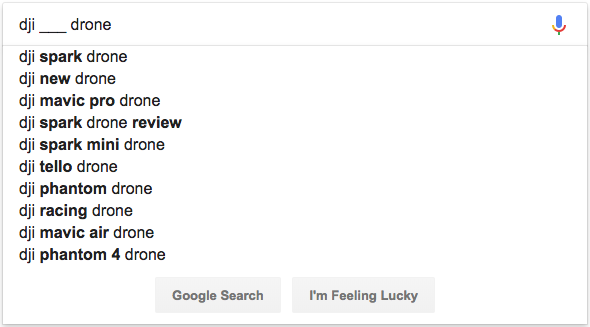 In this case, among DJI's drones, the spark is a stand-out among searchers. This type of autocompletion can be very useful for local-level keyword research.
Keyword research doesn't have to be painstaking work. The next time you set out to perform some low-level phrase discovery, consider just googling it!