Friday, November 11, 2016
I am fortunate enough to serve on my city's parks and recreation board. The staff is a talented group of folks and they work hard for the institution and the population it serves. Through my time serving the board and many discussions with staff about marketing and communication, it has become obvious to me that the department has big challenges on the web. 
Municipalities like Raleigh have no shortage of utilization across their programs and facilities and because there is high demand, the communication department has been able to ignore opportunities that would be pounced on in the business world. 
How to Find Parking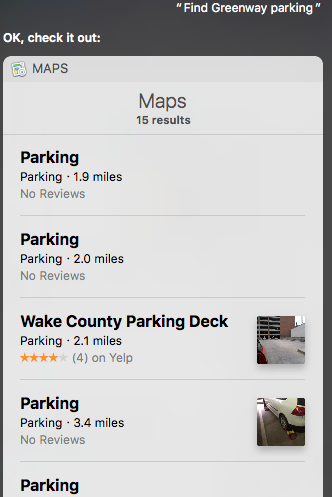 Siri's pitiful local parking results
One problem I have heard from the department is the challenge of getting parking information to citizens who are looking to use the city's expansive greenway system. City staff had listed all the parking lots on the handy greenway map. This list is almost one hundred parking lots across over 120 miles of greenway. You can see it here.
That's a wonderful start and will help many folks find a place to park, but it doesn't match how anyone looks for a destination in the age of the smart phone. Most location searches are done en route on smart phones in the mapping software of the user's choice or using the voice assistant on the phone. Making a location findable to Google, or Siri, or any other search is not a big deal, but it requires thoughtful planning on your website to do it properly. 
The first new idea is to treat parking lots as what they are on the web: facilities in their own right. This means parking or greenway access points all need their own landing pages. Parks & Rec already has pages for community centers and individual parks, but those parking lots aren't listed on their own. The final thing needed is a dose of structured data/ or microformats. These special pieces of webpage markup tell search engines that you are listing a location and the details of that location. 
Additionally, once these pages are created they can be submitted to the various mapping services — from Google to the big GPS map providers — to make sure your parking lots are listed everywhere. With this approach, no matter what service someone is using, they can find the parking lot closest to them. 
Here's the page structure I would propose using. Each box represents a page in the hierarchy.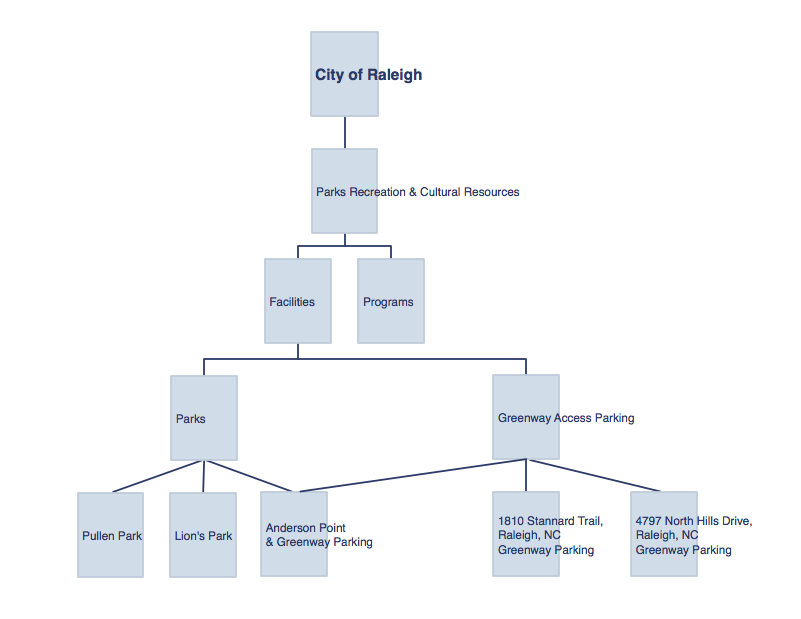 Solutions to Parking, In Review
Parking lots need to be treated as facilities in their own right.
Every facility needs its own landing page.
That landing page needs to incorporate structured data about that location: https://developers.google.com/search/docs/guides/intro-structured-data
Finding Programs
Your house may be different, but in mine we recycle the yellow pages and the phone book immediately after they are delivered. We don't want printed catalogs of any kind, and we don't read the ones that do make it through the front door. If we want to find something we search for it on the web. 
Raleigh's Parks, Recreation and Cultural Resources department relies on a massive print catalog to communicate the programs and activities offered. The catalog goes out of date so the department has to print new ones three times a year. If you request the catalog, you get it several days later in the mail — long after you identified your need for information. The catalog is organized by program, but if you want to see an index of the activities at your local community center, there is no way to do that. Because all the work goes into the print catalog, the best way to find the information online, is to use a PDF viewer and click through the catalog.  The limitations of print are glaring.  
Furthermore, the website does nothing to help citizens who don't have the catalog. Take a standard, relevant Google search: "Raleigh Little League"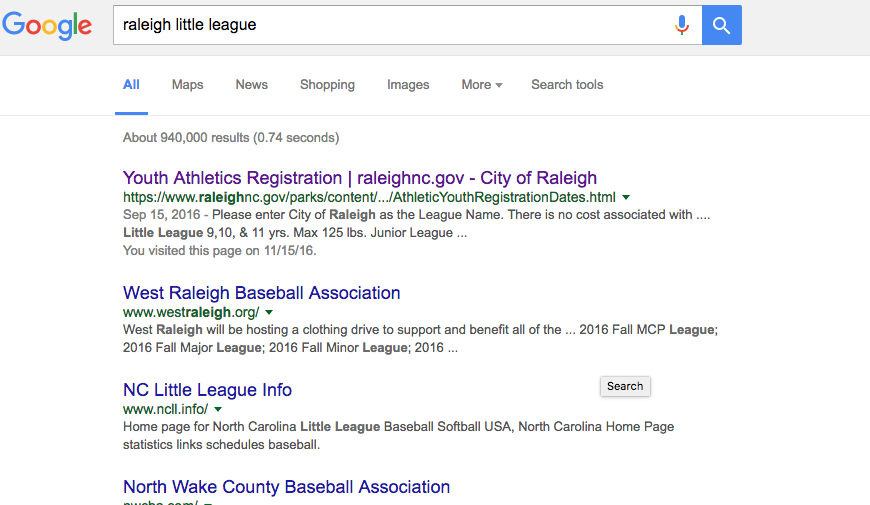 This Youth Athletics page is the only municipal result and what follows is a lesson in what not to do. The landing page is a long list of every athletic program offered by the Parks and Recreation department. The only registration offered is a PDF of a for you must submit via snail mail.
This has implications not only on me as a parent and community member, but it also creates undue burdon on city's administrative staff and expensive printing and shipping costs. The opportunity that Parks & Recreation has is to create a permanent digital catalog that is easy to keep up-to-date and offers different methods of browsing depending on a citizen's needs. Most importantly, perennial programs that re-emmerge seasonally need to have concrete landing pages — URLs that don't change and can act as a permanent hub for these programs.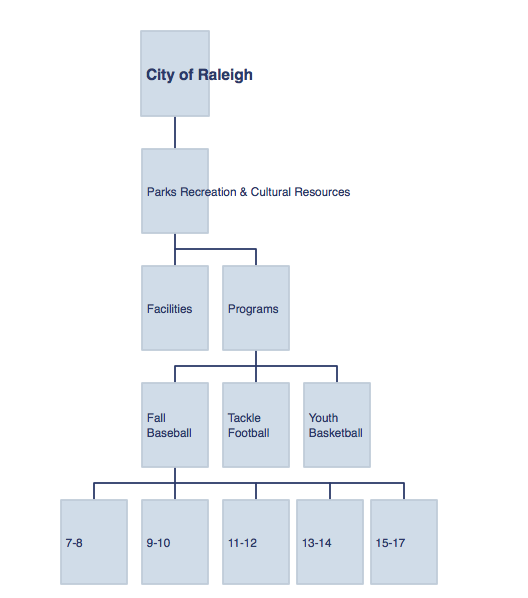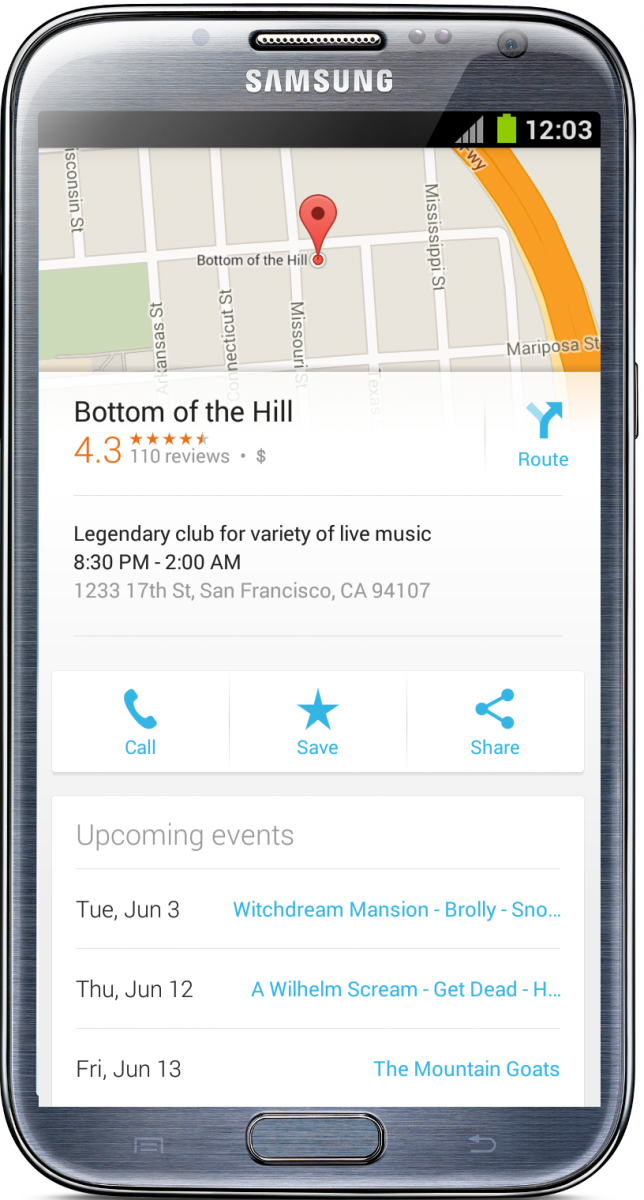 These pages would be well indexed by google and they would always contain the most up to date information about upcoming seasons, registration information for each age group or variation. By offering online registration, the ROI on the technology investment would be near immediate. Taking it further, the season schedules could be posted to the deepest pages. If you used structured data for those games, when someone searched for the game or the park the game is occuring in, it would show up correctly in the google results.  
"Complete Solutions" Caveat Emptor 
Many of the purpose-built products for program registration out there don't take that landing page strategy into account and the result is that a search like "Raleigh Little League" still won't reveal the right page. Municipal Parks and Recreation departments should make sure that their registration system is not the system where marketing information lives. Leverage the department website and the content management sytem to build out permanent pages for long term programs. Get staff to think digital-first instead of starting with the print brochure. The result is real online authority about each of your offerings. This landing page strategy means your online program marketing can continue to build steam year after year, instead of disappearing after registration ceases.