Maximizing the passing of the heroic gift of life from one human being to another through organ and tissue donation
Carolina Donor Services (CDS) is a regional organization in North Carolina in charge of managing the organ procurement process between families and hospitals. Carolina Donor Services is the federally designated organ procurement organization serving 7.2 million people in 77 counties of North Carolina and Danville, Virginia. CDS works to inspire people to register as an organ and tissue donor to save lives. 
Our task was to motivate a very diverse audience of site visitors to sign up for the organ donor registry (CDS covers a region of 7.2 million people). To do this, we utilized the organization's bank of inspirational stories about organ donors and recipients. Beautiful and true photography was critical for making these stories impactful. Alloy team members directed a photo shoot at Carolina Donor Services, in partnership with Donate Life NC, to build a bank of images of real donor families and organ donation recipients. Incorporated into the website, these images convey the importance and impact that registering as a donor could have on someone's life.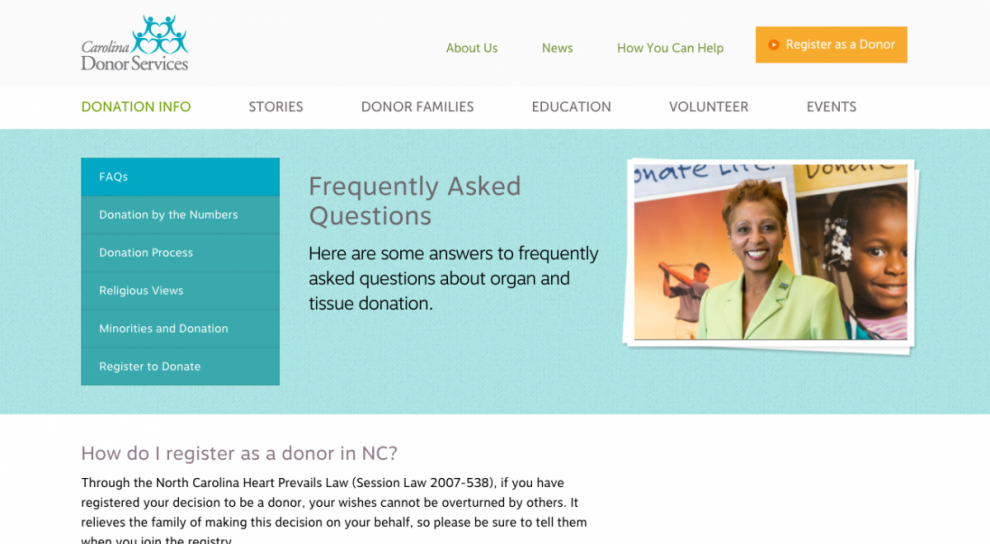 The secondary task for our team was to increase involvement among the organization's fans and supporters. Individuals whose lives have been touched by organ donation frequently become devoted volunteers and advocates for Carolina Donor Services and Donate Life NC. We expanded the organization's visual brand and introduced fun and friendly icons to promote the ways to get involved. 

The site also provides easy access to educational materials, volunteer opportunities, and answers to very commonly asked questions about organ donation. The site incorporates a range of best practices to accommodate different visitor user cases, with a special focus on creating a clear and obvious call-to-action to register as an organ and tissue donor.